Introducing Bryan Vanderhorst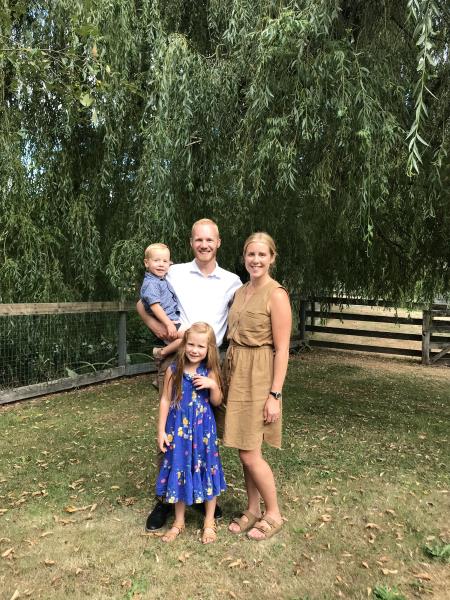 Hello! I'm Bryan Vanderhorst and this is my wonderful wife Paige (nee Van Delft) and our children, Zoe and Jesse. How did we get to this point? Good question, I'm happy to share.
My hometown is Abbotsford, BC, where I was born and raised by my loving parents, Gerrit and Grace. Given that dad is a charter member of the Abbotsford CanRC, we put down deep roots there in both the church and school communities. I attended John Calvin elementary and Credo Christian High and enjoyed subjects like math and physics (a rarity I'm told). And so, as you might expect, I pursued a career in that direction.
However, already during my first year of work, the Spirit of God began nudging me in the direction of ministry. I was surprised that my heart was softening to the idea since I had always resisted it and didn't believe that I had the talents for ministry. Learning Greek and Hebrew was particularly intimidating seeing as Grade 8 French hadn't gone so well. Nevertheless, I eventually handed in my resignation and headed back to university.
Around this time Paige and I started dating. I made it my goal from the beginning to have good communication in our relationship and to be as transparent as possible, so I soon brought up the fact that I was studying with the purpose of heading to CRTS and asked if that was something she would be comfortable with. Apparently my wording could have been better since she interpreted my question as basically asking if she would marry me. Given that this was our second date her ensuing silence was understandable. In any case, she eventually said yes (to the idea of seminary and marriage) and so our lives were united in December 2014.
One-and-a-half years later the Lord blessed us with our beautiful daughter Zoe. Initially she was somewhat shy, but over time she emerged as an outgoing and energetic young lady who brings much joy and excitement to our family.
The three of us arrived in Hamilton in August 2018. While leaving family behind is never easy, it was a great joy for us to be immediately surrounded by so many brothers and sisters in Christ. In time this new place became our home, and the Lord has blessed us here in many ways. In February 2019 our son Jesse was born. He's had a strong personality from the beginning and has a rather contagious laugh. He loves his family and adores garbage trucks and diggers of any kind.
Of course, there was also much schooling to be done over the last four years, together with various internships (thanks Revs. Vermeulen, VanSpronsen, and Bultje). I cannot overstate how thankful I am to these men, ministers, and professors, for the knowledge and wisdom they've given. I also experienced the privilege of having two mentor relationships at CRTS with Drs. Visscher and den Hollander who, though separated in years, were united in hairstyle. But in all seriousness, these men were a unique blessing through the guidance and encouragement they gave during the various seasons of life which a young(er) seminarian goes through.
There's so much more that we could share! So many stories to tell and people to thank, but ultimately we praise our God and Father for leading us to the place we are today. At the beginning of June, I intend to present myself to Classis Ontario-West to become eligible for call. Although looking to the future all we see is one vast and entirely unknown territory, we are eager to see how the Lord will use our gifts for his service. May his name be hallowed and adored.