Introducing Cody Swaving
It's been a year since CRTS first posted my profile to the website, a year of rich blessings from the Lord. For although I completed the program at the Seminary last spring, I was not immediately prepared to enter directly into the ministry of the Word. Rather than face the daunting task of shepherding the flock of my Lord Jesus Christ as an ordained minister, I took the opportunity to enter into a ministerial internship with the congregation in Smithville, ON.
Through this internship, I've been able to grow and develop in sermon writing, catechism instruction, interacting with other ministers, and visiting and caring for the members of my church. It has been a wonderful opportunity to work together with Rev. Bouwman, who has grown into a dear mentor for me over the past year, and with the consistory of Smithville, whose care and support has reassured me that the minister is not alone, but surrounded by brothers filled and equipped by the Spirit of God to lead and guide his people together. From my basement rental beneath my sister's family, I've also witnessed the joys and struggles of raising two rambunctious young boys in the covenant they were baptized in. One or two of their antics may or may not have been a basis for a sermon illustration.
I'm so thankful to the Lord in how he continues to provide and sustain, how he prompts growth by his Spirit to turn away from dependence upon the self and to lean more and more upon him for the strength that is needed for the task at hand. By his grace, Classis Niagara has declared me eligible for call at the beginning of March, and I eagerly look forward to the work that lies ahead.
---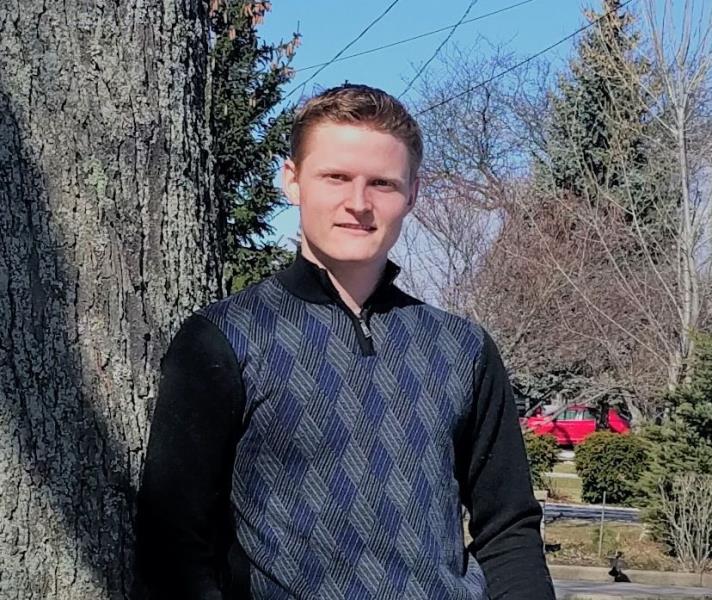 Hi! I'm Cody, the sixth child of eight, born to Ken and Debbie Swaving in the picturesque town of Fergus in the rolling hills of Ontario some 24 years ago. I grew up on a 2-acre lot in the countryside, sharing the land over the years not only with cats and dogs, but also rabbits, cows, chickens, goats, and even a pig and a horse. I attended school at Maranatha Christian School and Emmanuel Christian High in Fergus. I first resolved to study for the ministry at a young age after a particularly good sermon on Joshua meeting the commander of the Lord's army. While I no longer recall the details of the sermon, the desire stuck with me throughout school, and so I headed off to the University of Waterloo to pursue a B.A. in Classical Studies, although the welders, painters, machinists, and supervisors at Walinga in Fergus helped ensure an academic education wasn't the only one I would receive.
Three short years later, I found myself in Hamilton at the doors of the Seminary, undergraduate degree "in hand," so to speak. The next four years would be a blur of activity and studying for which I felt woefully unprepared. Yet, God, in his infinite wisdom, placed me with excellent men and women to help guide and shape me throughout my time at the Seminary. From the professors who taught and mentored me and the catechism students who listened (mostly) to me on to the classmates who sweated with me and the housemates who put up with me. I served with the Roots Team for four years, working alongside a variety of youth groups in Ontario to prepare conferences and events for Christian young people. I also had the privilege of serving on staff at Campfire! Bible Camp for two years in the summers after my internships with Rev. Slaa in Smithers and Rev. Harryvan in Kiev, Ukraine. My final internship with Rev. Poppe in Winnipeg especially was immensely beneficial: leading worship, visiting with people (especially over dinner), attending meetings, and discussing ministerial life.
Through it all, God has been so good. From writing papers to preparing sermons, from discussing (debating) with classmates to praying with the same, from sweating over due dates to relaxing Friday afternoons, from being frustrated with exegetical questions to praising God for the treasures of his Word, he is so incredibly gracious and good. He continues to provide and to sustain. It is incredible to look back and see the Spirit of God working through mere man to create and cultivate a beautiful and Christ-centered atmosphere here at the Seminary for us to grow in strength and in wisdom that we might become more and more like our Lord and Saviour. I look forward to see where the Lord will lead me in the years to come, as this chapter has drawn to a close.