Introducing Eric Onderwater
Hello everyone! Greetings to all of you from me and my family. My name is Eric Onderwater, and on the picture you can see my lovely wife Lisa, as well as our four children, Hudson (4), Eva (2), Ruby (1), and Pippa (5 mos). As you might assume, four in four years is a recipe for one loud and busy household!
As for me, I grew up in the Fraser Valley of beautiful BC, attended Credo Christian High in Langley and began university at the University of the Fraser Valley before later finishing at Simon Fraser University in Burnaby with a BA in Political Science and History. This arts degree, remarkably, led to political work in Ottawa the next year for a Member of Parliament. Later, I moved on to Toronto for work in Ontario provincial politics. However, as dynamic and exciting as politics could be, I realized a long-term future in that world was not for me. After a campaign loss, I packed my life into a car, drove back to BC and enrolled in business school at SFU. I thought maybe I could be an accountant or something. Right?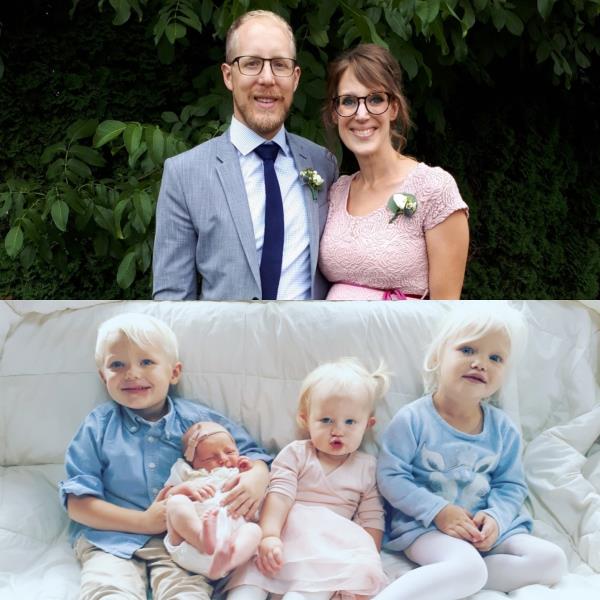 No. Midway through the first year I met this cute girl at Bible study. I asked her out for dinner the next day and she agreed. But I chose sushi and she, being an Alberta girl, hates sushi, so that didn't go so well. Nevertheless, I was sure about her and after waiting six more months she agreed again to another date. Thankfully, after planning this date around her interests this time, we began seeing each other and were married 10 months later (when you know, you know!).
Backing up slightly, though, within a few months of seeing each other, after some oddly out-of-the-blue prompting from Lisa, I began to face the nudging feeling I'd been ignoring for a few years. Finally admitted, this 'nudging' led to serious thoughts about pursuing ministry. This in turn led to language courses at TWU and finally coming to CRTS roughly four years ago.
Four years at CRTS? It seems like just yesterday I was a wide-eyed first year, shocked by the frigid Ontario winter and wondering how on earth someone could memorize the entire catechism and pass Hebrew. But somehow, with divine intervention, these things could happen and be followed by more years of study, complete with seminary-organized internships in the Edmonton Immanuel congregation, Messiah's Fellowship in NYC (URC), and Langley congregation, plus catechism teaching at Redemption church in Flamborough. I also personally organized an additional internship with Grace Valley in Dundas ON.
These years have been a pleasure, and we especially thank our churches here in Hamilton for their welcoming hospitality. We also deeply appreciate our friends, colleagues, and professors at the seminary—the seminary community has been formative and enriching for me and Lisa. During this time, we've also been given four beautiful, healthy children. We lacked for nothing in the last years (except sleep), and we acknowledge in faith that the blessing of these years is only due to God's care and attention.
Now it's time to hit the real world, as they say. And this is fitting, for these years at seminary taught me the inestimable value and worth of the gospel of Jesus Christ and trained me in the depth and breadth of this gospel. It is transforming me, producing a desire in my heart to serve the churches for the sake of Christ, if it be his will, preaching the gospel of Jesus Christ to God's people and beyond. To him be the glory.