Introducing Kelvin Dekker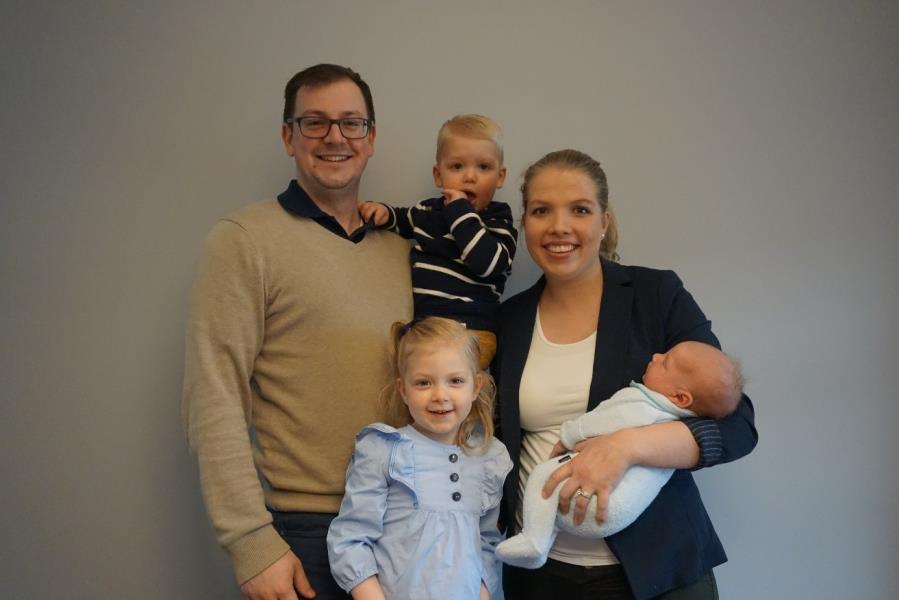 My name is Kelvin Dekker, husband to Amy (nee Houweling), father to Abigail (3), Nathaniel (2) and Theodore (6 weeks), and student at the Canadian Reformed Theological Seminary. We're one of the Aussie families who have "infiltrated" the seminary and learned the Canadian way of life, among many other wonderful things.
Our roots go back to the land down under where for more than twenty years of our lives the Lord shaped and moulded us. Our parents had the largest influence over our lives, holding steadfast to their baptismal vows in nurturing our hearts in the fear of the LORD and training our minds with a Christian education. In love they nurtured us, patiently pointing out our weaknesses and calling us to respond to the wonderful promises God made to us. In addition to our parents, the Lord has blessed us with many siblings, a variety of work experiences, tertiary education, a loving church community, and friends.
My journey on the path of ministry preparation began in 2011. I was working in Diagnostic Pathology after completing a bachelor's degree in medical science at university. Although my pastor and my peers had suggested in the past that I consider the ministry, I thought it was for 'those' kind of people, not me. However, in July of that year I was driving home after a night shift, listening to a sermon. The conviction that overcame me in that moment drove me to be honest with myself and my Maker about the direction of my life. That drive home turned me from a path of resistance about ministry to one of pursuing it.
I resigned from the laboratory that year and took up part-time construction work with my father, while studying Greek, Hebrew, Latin, ancient history, and philosophy. The following year I was introduced to the love of my life and best friend, Amy, who was a preschool teacher at the time. We were married in April 2015.
Since moving to Canada Amy and I have grown closer to the Lord and to each other. Leaving family and loved ones behind and moving to a new country as newlyweds strengthened our dependence on the Lord and each other and impressed on us a heavenly perspective for this earthly life.
Amy and I left Australia as a family of two but under God's blessing we have now grown into a family of five. Abigail (3) is the energy in our house who keeps us running and laughing. Nathaniel is the "law and order," making sure everything is in good order and in its proper place. At just six weeks old, Theodore still keeps us up at night but also melts our hearts. Raising all of them has taught us to be thankful and to depend on our God, his wisdom, his patience, his love, and his gentleness.
Our other life experiences include our orientation, mission, and summer pastoral training practicums. In 2017 we had an orientation internship under Rev. Rodney Vermeulen's mentorship in Glanbrook. This was a wonderful opportunity to "get out there" and do some hands-on work with the theory we soaked up in the freshman year. The Lord used this experience to confirm for us that the ministry is where we desire to serve. In 2018 Amy and I spent two weeks with Covenant Orthodox Presbyterian Church in St. Augustine, Florida, where we received a taste for church planting and evangelism. In 2019 Amy and I spent ten weeks in the Free Reformed Church of Albany under the guidance of Rev. Hendrik Alkema and the Albany consistory. This opened our eyes to the wonderful and challenging work of ministry and confirmed for us once again that this is where we desire to serve.
Seminary has also had a large influence in our growth. The study into God's living and active Word transformed me in many ways and under God's blessing has enabled me to serve and guide our young family.
Yes, these experiences carried with them challenges and afflictions, but along the way we have learned many things about ourselves and our covenant God. The Lord has been with us and we have tasted and seen most clearly that he is good. He works for our benefit through the challenges and afflictions in order to conform us to the glorious image of his Son (Rom. 8:29). It is our hope and prayer he will continue to do this for us and use me as an instrument to do this for others through pastoral ministry.