Introducing Kevin Star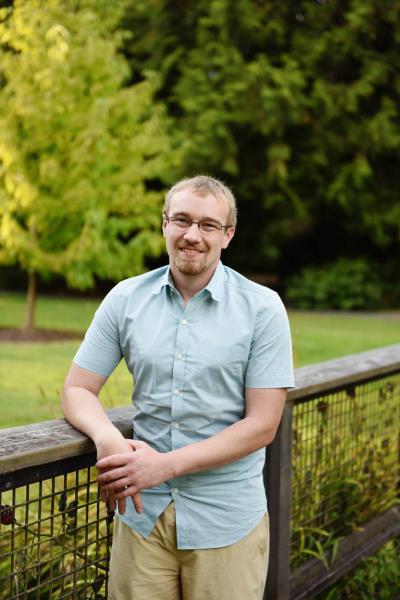 Greetings! My name is Kevin Star, and I am a fourth-year student at CRTS.
Allow me to begin this introduction by addressing the elephant in the room: yes, my last name is Star. Not Staar or Starr or even VanderStar. And yet, I can sing the Genevan Tunes with gusto and make homemade croquettes with a passion. How can this be? Legend has it that a wayfaring British sailor once made his way to the fair shores of the Netherlands and, won over by the stamppot and stroopwafels, decided to make his home there. Generations later, his descendants would immigrate to British Columbia, and that's where my part of the story begins.
I grew up in the city of Surrey, BC, attending William of Orange and Credo Christian schools. As part of my post secondary studies, I attended the University of the Fraser Valley and the University of British Columbia. During most of my teenage years I worked in the fields of Two EEs farm. Planting literal vegetable seeds inspired me to pursue planting seeds of a more metaphorical kind and, in the summer of 2017, I packed up my trusty red Mazda and journeyed through the real mountains for "The Mountain," as they call the escarpment here in Hamilton.
Over the course of my studies, I have been able to participate in three internships (and somehow inherited a cat). I did my orientation with Rev. De Jong and Rev. Jagersma in the Blessings congregation. My mission internship was spent with various ministers in the ERQ churches of Quebec. Although my French remains limited to four or five critical phrases, this experience opened my eyes to the immense need for the gospel in an increasingly secular and hostile culture. In the summer of 2020, I spent 10 weeks in Dunnville, Ontario, working under the guidance of Rev. John VanWoudenberg. During the summer I was once again reminded of the priceless value of the gospel of Jesus Christ—what a comfort and joy this gospel provides us in both "fruitful and barren years"!
My time at CRTS has been a pleasure and I am grateful for the friends, professors, and fellow students I've come to know along the way. I am also thankful for the support of the churches, and above all else the care of our Almighty and Loving Heavenly Father. Now I am looking ahead, with no small amount of trepidation and prayer, to whatever the Lord has in store for me. May it all be to His glory alone.