Introducing Kim Lapiz
Hi, I am Kim Javier Lapiz, from the Philippines. Although we have many international students in CRTS, I am the first Filipino. In saying this, I also hope that I am not the last. Interestingly, my journey for ministerial training is unique but not unusual. This is to say that I am a recipient of the on-going reformation in my home church.
Initially, I had no idea that I would play a major role in this endeavor. So, my path towards ministerial function is better understood through how our church was converted into Reformed Faith. Therefore, I will be sharing not only my story but our journey as a church. I grew up in an Evangelical-turned-Pentecostal church. This is the only upbringing I knew until early 2000. "Reformed" is not even in the vocabulary among Filipino Christian churches. This may sound like a strong statement to you, but this was the reality of how we thought in the association of churches in which I grew up.
The Philippines is a Roman Catholic territory; the remaining 20 percent belongs to other religions. One hundred years ago, the first group of American missionaries came bringing Evangelicalism. It took a long time for Reformed Churches to have an interest in coming to the Philippines. When it was introduced to us, we thought it was a new brand form of Christianity. By then, we learned the TULIP and five solas. A few of us decided to separate in order to form a new group and to share our newly found faith. This was a challenge for us since there was no local model church. We were longing that more Reformed people would come with increasing frequency. However, it was a slow journey but God meant it for good for us. Amazingly, over the years, even though we only have a little to teach, more churches started to associate with us. We are seeing a version of the reformation period in the Philippines.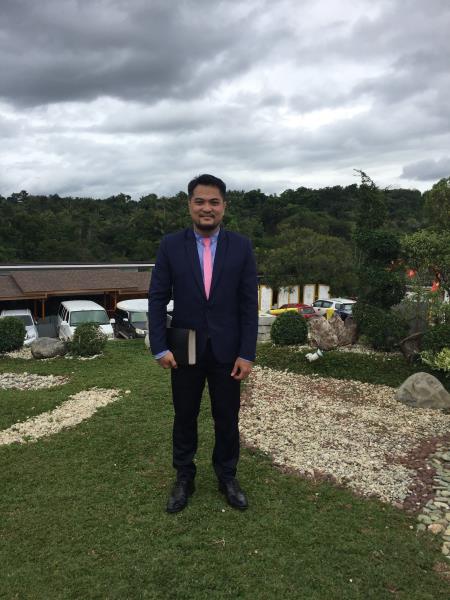 It was also during those years that God is molding me. At first, I only wanted to be a person in the pew. Little did I know, that I was slowly directed into the path of preaching the Gospel in the pulpit. God called me into the ministry five years ago. I knew I was not fully equipped, but it happened. Many of the ministers around me said that I will pick up more learning along the way. I agreed because I knew that this enterprise is of God. Sure enough, out of nowhere at that time, early in 2013, Providence (Hamilton) formed TAP (Theological Assistance for the Philippines). They visited the Philippines and in 2017 Joe Bontekoe and John Langendoen told me what seems impossible. For me, it was an unimaginable possibility to get training at CRTS. Thinking about how tedious the process might be, it would have been natural to hesitate. Thankfully, many prayed and encouraged me to continue. Sadly, three times I was denied a student visa. I wanted to give up, but then the Immigration Office emailed me that they were reopening my case and eventually he granted me the necessary visa. This, then, was also a guarantee that the work happening in our home churches would increase in knowledge.
I am grateful and privileged to receive training at CRTS. This is where I see how dedicated the professors are in preparing men for the ministry. I am also impressed with my fellow students' discipline to study. My family name "Lapiz" is the Cebuano translation for a pencil. It is then appropriate to say that my three years at CRTS have "sharpened me" to preach the pure Gospel message for God's people. Therefore, what remains ahead for me is to find comfort from Paul to the Philippians, "being confident of this very thing, that he which hath begun a good work in you will perform it until the day of Jesus Christ" (Phil. 1:6).