Introducing Mark ten Haaf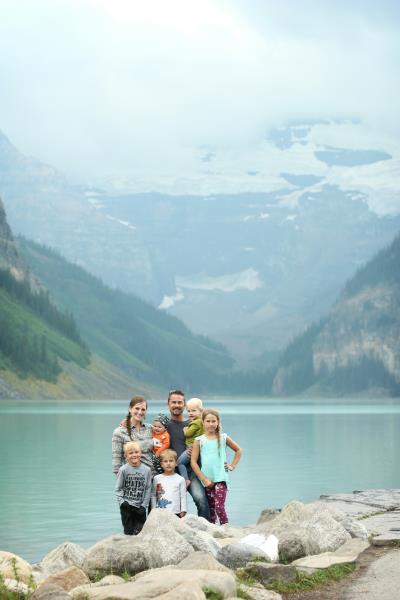 Greetings to All,
I'm Mark ten Haaf, one of the fourth-year students at Canadian Reformed Theological Seminary, and I would like to introduce myself and my family to you. My faithful, beautiful, and reliable partner in this life is my wife Stephanie (nee Kingma, for any bingo players). This May, we hope to celebrate eleven years of joyful marriage. During these years, we have been blessed with a lively home full of children and noise, we have had to make some serious and difficult decisions together, and we have had the wonderful privilege of getting to know many of our brothers and sisters in many different places in this family of God. We've especially enjoyed fellowship and growth during various internships. The first of these was in Hamilton (Cornerstone) with Rev. John Louwerse, next in Niagara Falls with Rev. Richard Bultje and also at Campfire, and finally we spent last summer in Edmonton where I was able to learn from Rev. Richard Aasman. What a time it has been! Praise God from whom all these blessings flow!
We are a family of seven: Mark, Stephanie, Jaiva, Bauer, Creed, Oslo, and Viggo. Let me say a little bit about myself and each one of my loved ones.
I'm a bit of a late-comer to seminary life. I had a vocation in the concrete construction business in Grand Rapids, MI until I was guided to pursue the ministry. Working with my hands is something that I have always loved, and I hope to be able to keep up carpentry as a hobby. I also love to cook and set some time aside for sports, too.
My wife Stephanie has been a true God-given help and partner and friend. I'm always impressed by her because of everything that she does so well for us. She manages to be exactly the wife that I need while caring for our children and managing many other aspects of our home life. At the same time, she is able to find time and energy to keep up her photography business. She uses her skills to adorn the walls of our home with artistic memories of our family's short history, and she also volunteers as a photographer for the Heaven Bound charity in Hamilton (for families experiencing infant loss—something that God has also given us to experience).
~ Jaiva is nine years old. She is a voracious reader, and a skillful puzzle-solver. Jaiva also plays her part very well as the oldest and wisest of all the children. It's a big responsibility, and she does it with lots of love.
~ Bauer is eight. He loves hockey. Maybe his name has something to do with it, but that would be just a coincidence. As much as he loves hockey, he also loves being a big brother to the little guys, helping them in all their activities and, of course, teaching them stick-handling moves.
~ Creed is our warm-hearted, hilarious, animal-loving six-year-old. He could probably rattle off more facts about dinosaurs and sharks than your run-of-the-mill paleontologist or zoologist. The funniest thing about Creed is that he has no idea how funny he is.
†
~ Oslo is three. He is warm-hearted too, but perhaps a better description is "stout-hearted"! It's funny that someone who has only been alive for three years can be "set in his ways." Still, he seems to have unlimited patience and gentleness for his baby brother. Likes: anything with wheels.
†
~ Our littlest guy, Viggo, turned one a couple of months ago. He's quite the explorer and we're not sure if there's a section of cupboard space he hasn't discovered. Give him a smile, and he'll happily scrunch up his face in return.
As mentioned already, we are nearing the close of this leg of our journey, and it is a bittersweet thing to consider. On the one hand, the years seem to have slipped by quickly and we are suddenly on the cusp of what we have been striving for and praying for during these past years. On the other hand, we have made this place our home. Our hearts have been knit to some dear friends here in Hamilton, and we know that this is a year of farewells and changes—paths which have been plotted out for us by God, but which we have yet to discover.
We also would like to express our deep gratitude to you all—you have supported us in this pursuit in tremendous ways: with your prayers, with well wishes and encouragement, with material support, and you have contributed to the excellence of our institution here in Hamilton. It's truly a reflection of the love of God in the one body of Christ!