Introducing Nathan Zekveld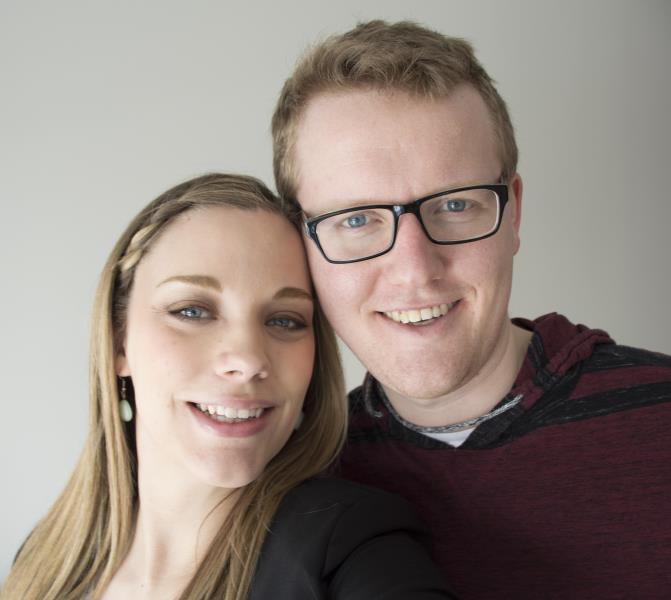 Hey! I'm Nathan Zekveld and I have my wife Ashley here beside me. Ashley and I started talking together following my first year of seminary. Realizing that Ashley would make an excellent companion and "team-mate," I asked her Dad what he thought, and he thought marriage was a good idea. I proposed to her that October. She said, "for sure," and we got married the following summer. Ashley has talents in the arts and has a background at Credo Christian High School and Langley Canadian Reformed Church. Her maiden name is Bulthuis for those who are interested in Dutch bingo. We have really enjoyed our time growing together at the seminary and in Rehoboth United Reformed Church over the course of the last couple years. We are expecting our first child to be born in June!
Let's rewind a few years. I was born in London, Ontario, lived in Brooklyn, New York for three years, and then grew up in Rexdale, Toronto from the ages of four to eighteen. Church and family have always been important to me since my Dad started out in Rexdale as a parachute missionary and then started to shift into the stage of church-planting around the time I was twelve. Meanwhile I had the opportunity to learn through the methods of homeschooling and meeting a huge variety of people. I grew up with close connections and friendships in Hope Centre and in the United Reformed Church in Nobleton, just north of Toronto. I attended New Saint Andrews College for four years in Moscow, Idaho, and worked for nine months out of Grande Prairie, Alberta before showing up at my first day of class at CRTS.
Some people ask me what lead me to seminary and in particular CRTS. I first started to sense a desire to serve God in the work of preaching and pastoral ministry at the age of twelve. I expressed this desire throughout high school and college and "tested" it with a year of work in between. I can say that I have seen God's guiding hand through these years, and I trust that God will confirm this with a call from a church. As for choosing CRTS, it was useful that I had the language pre-requisites for CRTS from my college education. In addition, I knew both Dr. de Visser and Dr. Van Dam a bit, and I took the opportunity to learn from solid theologians in Canada (also in the context of ongoing unity talks between the URC and CanRC).
I am thankful for how God has used the professors at the seminary to help me speak more clearly about the gospel and write and think with increased clarity, depth, and integrity. I am thankful for Hope Centre URC in Toronto and Covenant URC in Wyoming who sent me. The support and encouragement of the congregation, consistory, and pastor at Rehoboth URC have been invaluable. I have had solid internships in the Ponoka/Lacombe URCs, Abbotsford URC, Sheffield URC, and Regina URC. I am aware that this is the just the beginning. If the Lord wills, we have many years of learning and growth ahead.
As we look forward expectantly to where Christ will lead us, my wife and I desire to serve Christ through serving His people. I love the message that the righteousness of God has been revealed in Jesus Christ. I am thankful for the Reformed tradition that God has brought us into in His sovereignty. I desire to see a proliferation of local churches in Canada and throughout the world and to see every church full of voices bursting with the praises of our Triune God. We look forward to the day when we will fall on our faces before the throne of the Lamb and sing to Him: "Worthy are you to take the scroll and to open its seals, for you were slain, and by your blood you ransomed people for God from every tribe and language and people and nation, and you have made them a kingdom and priests to our God, and they shall reign on the earth" (Rev. 5:9-10).