Introducing Scott Bredenhof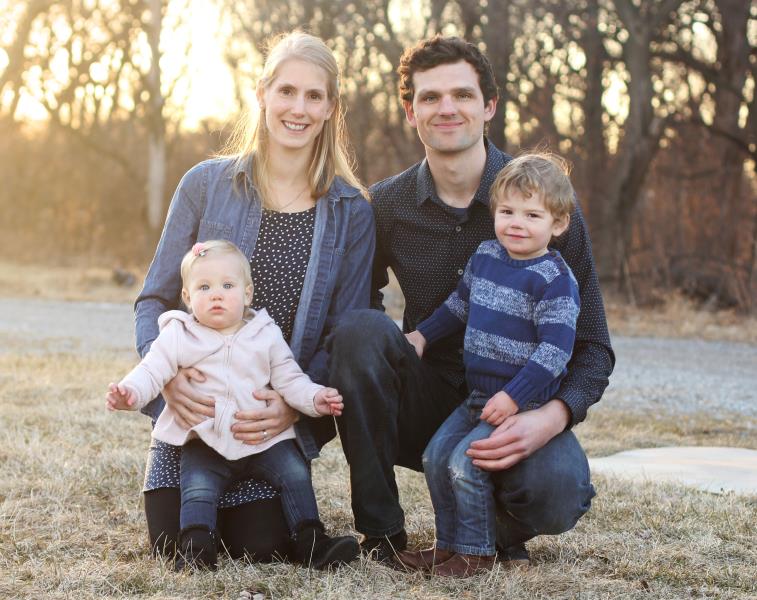 Hi! I'm Scott Bredenhof and this is my lovely wife Annemarie and our two kids, Lewis (2) and Elizabeth (1). Baby number three is due in August and will surely keep our hands full. I suppose the relevant questions to answer are: "How did we get here?" and "Where are we going?"
God's grace has been all over my life right from day one. God-fearing parents instructed me in His Word and a church community did the same. Hard work was learned in the dairy barn and resting in the Lord was learned in the church pew on Sundays. A Reformed education provided a biblical worldview and catechism classes supplied a framework for my faith. But a fish doesn't know it's in water, and in the same way God's grace can seem so normal we forget how amazing it is. I think this was true for my life as well. It's not that I ever lost my faith, but it was missing something. If I was to pinpoint exactly what it was, it was this: a clear and comprehensive grasp of the good news of Jesus Christ and its transformational effect upon every aspect of life. This life-altering truth crystallized in my mind during a short-term mission trip to Ecuador where I witnessed firsthand how the gospel was transforming lives and communities. I still remember the moment on that trip when I decided I wanted to spend my life making Jesus known. The journey from that decision till today has not been straight-forward, nor easy, but I can see how the Lord has blessed me through it all, especially in his provision of a wife who shares a desire for mission work. Somewhere along the way I realized I needed more theological education than my podcasts could give, so I applied to CRTS for the Diploma of Theological Studies. I've since switched to the Bachelor of Theology program and look forward to finishing this spring.
Our years at seminary have been both transformative and challenging. I've been able to soak up the wisdom of the professors and have been encouraged and sharpened by my fellow students. Our family has grown by three and parenthood has a way of schooling you with some hard lessons. Internships at a church plant in Niagara Falls and at a First Nations reserve in Alberta have provided us with valuable ministry experience. I've also struggled with my health over the years and have wrestled with my limitations. Many times I have felt in over my head, but I've learned to keep my feet planted on the Rock. And that's really the best thing about seminary: You immerse yourself in the truths of God's Word and see how God shapes and moulds you into a tool he can use.
So where are we going? At the moment we are working on plans to minister in Querètaro, Mexico under the oversight and with the support of the Mission in Mexico Board of Abbotsford and Vernon Canadian Reformed Churches. We are praying the Lord blesses our plans and we know wherever he leads, he has promised to be with us always. His grace knows no end.