Introducing Timothy Veenstra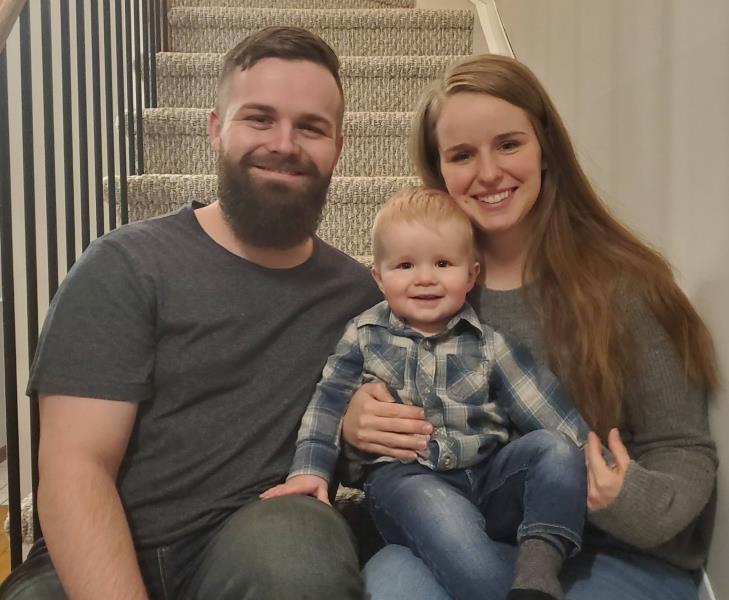 Hi, I'm Tim Veenstra. This is my wife Kristen and our one-and-a-half-year-old son, Ezra.
While it feels like most of my peers are from far-away places, I grew up right here in Hamilton, ON, not far from CRTS. For the first two decades of my life I lived with my family of six above my parents' fish and chips store. I am deeply grateful for my wonderful, godly father and mother who worked hard so that I might be blessed with a wonderful Christian education, first at Timothy Christian School and then at Guido de Brès Christian Highschool. After high school, I enrolled at McMaster University where I majored in philosophy, while dedicating my electives to learning Hebrew, Greek, and Latin.
By God's grace, during my high school years, I had the pleasure of meeting and falling in love with Kristen, the wonderful woman who is now my wife. She is kind-hearted, an incredible mother, and my treasured friend. We both often reflect on, and thank the Lord for, the way that He has led us—even carried us—through our lives thus far. Through the good and the bad, the Lord has taught us to have a firm confidence in Him. He has shown us time and again that His words are true: the Lord is good, and there is nothing that can separate us from His love.
I have been told that I started proudly proclaiming my desire to enter into the ministry around the age of four. During my teenage years that feeling waxed and waned at times, but overall, as my knowledge of who God is and what He has done to save sinners grew, so did my desire to enter the ministry in order to proclaim this good news far and wide. Of course, if this is the desire that God lays on your heart, then there is no better place to go than seminary.

Starting at the seminary was a fairly nerve-wracking experience—it is a lot of work!—but it has been a huge blessing for both me and Kristen over these past four years. We are thankful for all that we experienced during my time in seminary, but especially the internships that I was a part of with Rev. Tony Roukema at Ebenezer CanRC in Burlington, Rev. Richard Bultje at River of Life URC in Niagara Falls, and Rev. Matthew Van Luik at Grace CanRC in Brampton. I am also grateful for the time that I could spend teaching catechism at Redemption CanRC in Flamborough. Through this time in seminary, by God's grace, my wife and I learned so much about our Saviour and our God. And, of course, the more He opened our hearts to know Him, the more He brought us to love and adore Him and His perfect Word.
I am so thankful for my time at CRTS. In particular, I am grateful for the wonderful, godly men and women who work and teach at the seminary. It has been a pleasure and a privilege to learn from them and to look to them so that I might, God helping me, learn to imitate them as they imitate Christ. I am also incredibly thankful for the support of the churches. Thank you for all of your encouragement, support, and prayers!

It is bittersweet that my time at the seminary is coming to an end, but Kristen and I are excited that we have been asked to do a six-month internship with our own congregation, Mercy CanRC, while Pastor Ian Wildeboer is on sabbatical. We are looking forward to that experience and to everything else that God has in store. True to His nature, He has been faithful, loving, patient, merciful and gracious through it all, and we know that He will not stop now. May He use our ransomed lives in any way that He should choose, so that our every moment and our every breath might bring glory to His great name.