Introducing Caleb Kos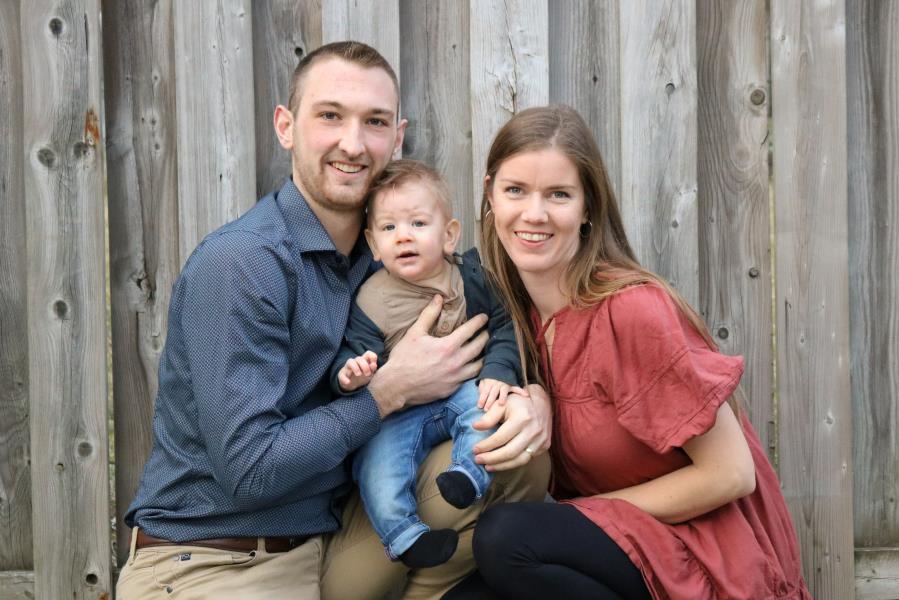 Hello! My name is Caleb Kos and pictured with me is my dear wife, Shanelle (Bergsma), and our son Titus. Wow, the time has flown by! After completing our first semester at CRTS, I remember joking with my classmates that we were "one eighth of the way through seminary!" And now we are looking forward to being examined by classis Alberta, the Lord willing, this upcoming June, in order to be declared eligible for call in Christ's church.
How did we get here? Well, I grew up in Neerlandia, AB, the oldest of four children. Growing up "country," I enjoy dirt biking, hunting, volleyball, and jujitsu. And I love board games. (Perfect for the -40º Alberta winters….)
During my junior and senior high years at Covenant Canadian Reformed School I had a couple of teachers encourage me to consider the ministry. I began to consider studying for ministry more earnestly during Grade 12. I was preparing to do Profession of Faith and my pastor Reverend Louwerse was also encouraging me to think about the ministry. However, I needed some time to decide, so I worked in construction for two years before applying to Concordia University of Edmonton where I completed my bachelor degree.
That summer, just before I packed my belongings into my car and drove to Ontario, I met Shanelle. She grew up in Carman, MB, and loves working in various health care settings. After almost a year of long-distance dating and hour-long phone calls, Shanelle moved to Ontario. Somehow – between last minute renovations on our future basement suite and moving my belongings out of my prior bedroom at 11:00pm the night before our wedding so that the new tenant could move in two days later – we managed to get married during February of my second year at seminary! Then, eight months ago, God blessed us with a little bundle of joy whom we named Titus.
I'm so thankful for the camaraderie and mentorship we have experienced at CRTS. It has been a wonderful experience to work, study, and learn with and from men and women who clearly love Christ and want to serve him. Your joy has been instrumental in fanning into flame my joy and delight in Christ.
I have also been blessed to enjoy several internships. I benefitted from internships with Reverend Wierenga (two weeks in Fergus with my uncle!), Pastor Holtvlüwer (10 weeks in my home congregation, Ancaster), as well as Pete Wright and Bert Degier (evangelism in Edmonton, AB). I also enjoyed four weeks of learning and serving in Pilgrim CanRC, London, ON. These experiences have excited me to serve Christ, share the gospel, and love Christ's bride. I've also seen how those who do not know Christ live in darkness, and I pray that many more may come to hear and embrace the Good News.
The next number of months hold many uncertainties for our future. This has really made us grow in appreciation for the way our churches call students. It is true for all of us, but this experience has made it crystal clear to Shanelle and I that we are entirely dependent on our heavenly Father to guide and provide for us. We have been both forced and blessed to meditate on God's faithfulness to us in the past, as we grow in trusting him in the present. We look forward to seeing which path God will guide us down in the future.