Introducing Tim Slaa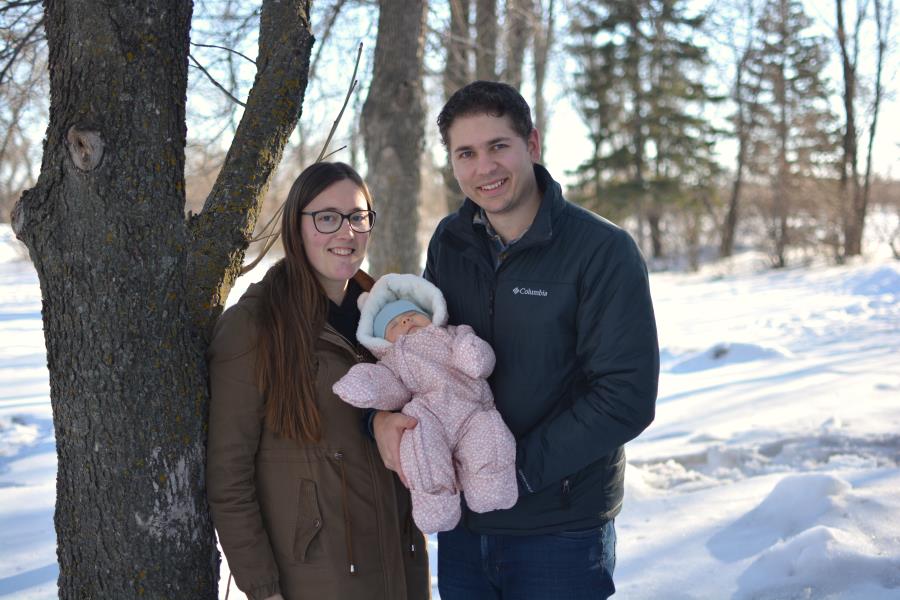 Hello everyone! My name is Tim Slaa and this is my wife, Alana (nee Wierenga), and our little daughter, Keziah. My journey began in Elora, Ontario, where my father was the pastor. But being a preacher's kid meant it wouldn't be long before we were off, and we moved from Elora, to Kerwood, and then to the mountains of Smithers, BC. There my siblings and I quickly grew to love the many outdoor opportunities that Smithers offered and took every chance we could to go hiking, canoeing, fishing, and hunting. But alas, every kid must grow up! So, as my high school years drew to an end, I set my mind on becoming a teacher, while at the same time my heart was becoming set on a certain girl named Alana.
Being from small-town Smithers meant I would need to uproot and find a university education some hours away. After two years of study in Prince George and working construction in the summers, I transferred down to the Fraser Valley, where I was still quite intent on pursuing teaching. But before long, the Lord began to prod me in a different direction. This was not the first time I had considered ministry. I distinctly remember listening with rapt attention to the missionaries from Brazil when they would come to Smithers for a presentation. I decided to finish my history degree and then see where things were at. Needless to say, the desire had grown, and so I headed back up to Smithers to marry my by-then-fiancé. Within a few weeks we had packed up our few belongings in the car and made the long trek to Hamilton.
While our hearts were still pining for the mountains of Northern BC, we settled in and made Hamilton our home. I spent the first year studying Greek and Hebrew, while also working at landscaping and painting part-time. When I realized I could finish the requirements in one year, I also (quickly) finished Latin. Suddenly there I was in September of 2019 making my way to CRTS for my first day of class, more than a little nervous, and perhaps for good reason. I remember in those early days being forced to yell Shakespearean insults at another student, which supposedly was to help build confidence in public-speaking.
But time has flown and by God's grace he has granted much growth and a love and enthusiasm for his Word, although I'm still left wondering how I managed to become one of that strange group called "fourth-years." Time certainly did not pass by without the challenges of occasional doubts, many hours sitting behind Zoom sessions during COVID, as well as griefs to bear. But the Lord has also been very good to Alana and me during this time, shaping us in many ways and through many individuals. We will be forever thankful for the internships in Grassie, Taber, and Houston, and the mission field in Cyprus, as well as the friendships we could form in these homes-away-from-home. We are also so grateful to the Lord, who answered our many prayers this past December by granting us a beautiful baby girl! Since Keziah arrived she has taken over our home, where we answer her every beck and call.
In the midst of this whirlwind, my time at CRTS is coming to a close. While we will greatly miss the friendships and mentorships that we've gained over the years, we look forward to whatever the Lord has in store for us. And so it is with some trepidation, but also excitement, that I hope to present myself to classis this coming June to become eligible for call. To God alone be the glory!